Tussidryl Dry Cough with Nasal Congestion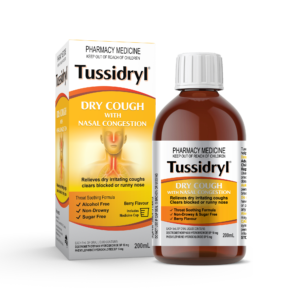 Tussidryl dry cough with nasal congestion provides effective relief from dry, irritating cough and helps clear nasal and sinus congestions, making breathing easier. It is a throat soothing formula.
Alcohol Free
Non-Drowsy
Sugar Free
Each 5 ml of oral liquid contains:
Dextromethorphan Hydrobromide B.P. 10 mg
Phenylephrine Hydrochloride B.P. 5 mg
Shake bottle well before use. Use the measuring cup included for accurate dose measurement
Adults and children over 12 years- 10 ml
Children 6 years to under 12 years-5 ml
Repeat dose every 4 hours if necessary. Do not exceed 6 doses in a 24-hour period.
Use in children aged 6 to under 12 years only on the advice of a doctor, pharmacist or nurse practitioner.
Tighten cap after use to engage child resistant closure.
Do not use this medication:
If seal is broken or missing or past the expiry date
In children under 6 years of age
If you are hypersensitive to any of the ingredients
If you are taking a monoamine oxidase inhibitor (MAOI) or an antidepressant or have taken the MAOI or antidepressant medicine within the past two weeks
During an acute asthma attack
Do not exceed the recommended dosage.
Before commencing this medication, consult your doctor:
If you have high blood pressure
If you have heart problems
If you have persistent or chronic cough
If you have cough with excessive phlegm
If you are pregnant or breastfeeding
If you are taking other cough and cold medicines
If symptoms persist for more than 1 week, tends to recur or is accompanied by fever, rash or persistent headache.
Disclaimer :Although every effort has been made to ensure that the information on this website is correct, Alphamed makes no guarantee as to the accuracy, suitability, or completeness of the material available. All brands and trademarks remain the property of their respective owners. All rights reserved. All information, graphics and materials are the property of Alphamed and its related entities, or owned by the relevant holders of copyright or trademarks for specific products and/or services. Alphamed makes no guarantee that this website, or any third party websites, are free from viruses.