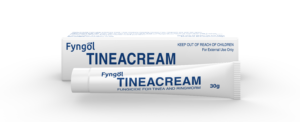 Tineacream effectively treats Tinea infections including Athlete's Foot, Ringworm and Jock Itch (groin).
Tolnaftate U.S.P. 1% w/w
Also contains- Chlorocresol 0.1% w/w.
Apply to the affected areas 2-3 times a day, continue treatment for at least two weeks after symptoms clear to prevent re-infection.
Fyngol Tineacream will help relieve itching, burning and soreness within 24 hours. If symptoms persist consult your doctor.
For external use only.
Do not apply to broken skin or sensitive areas.
Avoid contact with eyes or mucous membranes
If an adverse reaction occurs, discontinue use. If swallowed, contact a doctor or Poisons Information Centre.
Sore below 30° C away from sunlight.
Disclaimer :Although every effort has been made to ensure that the information on this website is correct, Alphamed makes no guarantee as to the accuracy, suitability, or completeness of the material available. All brands and trademarks remain the property of their respective owners. All rights reserved. All information, graphics and materials are the property of Alphamed and its related entities, or owned by the relevant holders of copyright or trademarks for specific products and/or services. Alphamed makes no guarantee that this website, or any third party websites, are free from viruses.