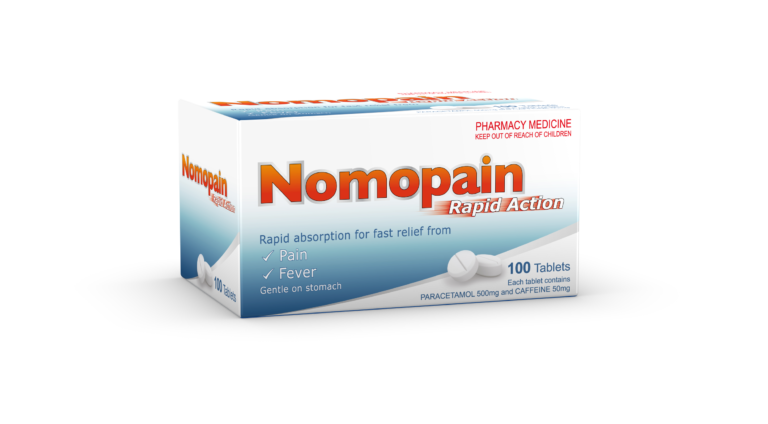 Nomopain Rapid Action tablets have rapid absorption for fast relief from pain and fever while being gentle on stomach.
10 tablets and 100 tablets
Each tablet contains:
Paracetamol B.P. 500 mg
Caffeine B.P. 50 mg
Adults and children over 12 years- 1-2 tablets every 4-6 hours (maximum 8 tablets in 24 hours)
Do not use this medication-
If foil seal over tablet is not intact
If past the expiry date
If using other products containing paracetamol or caffeine
For children under 12 years
For more than 48 hours for children aged 12-17 years except on medical advice
For more than a few days at a time for adults except on medical advice
If allergic to paracetamol or caffeine
Before commencing this medication, consult your doctor:
If you have liver or kidney problem.
If pregnant or breastfeeding
If an overdose is taken or suspected, call a doctor or go to a hospital immediately even if you feel well because of the risk of delayed liver damage if left untreated.
Disclaimer :Although every effort has been made to ensure that the information on this website is correct, Alphamed makes no guarantee as to the accuracy, suitability, or completeness of the material available. All brands and trademarks remain the property of their respective owners. All rights reserved. All information, graphics and materials are the property of Alphamed and its related entities, or owned by the relevant holders of copyright or trademarks for specific products and/or services. Alphamed makes no guarantee that this website, or any third party websites, are free from viruses.