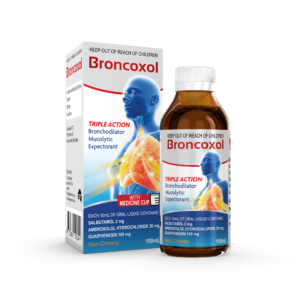 Broncoxol Triple Action formula helps to open up the airways, break down mucus and loosen chest congestion. It is indicated for relief of cough associated with bronchitis, bronchial asthma, emphysema and other bronchopulmonary disorders where bronchospasm, mucous plugging and problems of expectoration co-exist.
Bronchodilator
Expectorant
Mucolytic
Non-drowsy
Each 10mL of oral liquid contains:
Salbutamol sulphate B.P. eq to Salbutamol 2 mg
Ambroxol Hydrochloride B.P. 30 mg
Guaiphenesin B.P.100mg
Flavoured Syrupy base Q.S.
Also contains Levomenthol BP (2mg/10ml)
As directed by the doctor If symptoms persist, see your healthcare professional.
Do not use this medication if seal is broken or if past the expiry date.
Do not exceed the recommended dosage
Before commencing this medication, consult your doctor:
If you have known sensitivity to any of the components of the formulation
If you have persistent or chronic cough or cough accompanied by excessive phlegm
For patients with underlying severe heart disease
If you suffer from diabetes mellitus, glaucoma, hyperthyroidism, hypokalaemia, seizure disorder, underlying heart disease, hepatic impairment, renal impairment or in pregnancy and lactation.
Store below 30° C
Protect from light
Keep the bottle tightly closed
Disclaimer :Although every effort has been made to ensure that the information on this website is correct, Alphamed makes no guarantee as to the accuracy, suitability, or completeness of the material available. All brands and trademarks remain the property of their respective owners. All rights reserved. All information, graphics and materials are the property of Alphamed and its related entities, or owned by the relevant holders of copyright or trademarks for specific products and/or services. Alphamed makes no guarantee that this website, or any third party websites, are free from viruses.