Bronchonil Inhaler Pharmacist only Medicine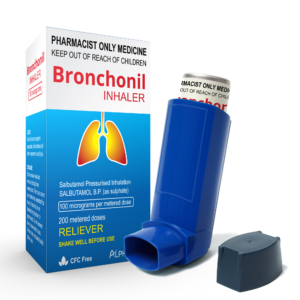 Bronchonil inhaler is used for the treatment of asthma, bronchitis and other breathing problems. This medicine helps you to breathe more easily by relaxing the muscle around the outside of the airway to open it up. Bronchonil inhaler is a 'reliever'.
Salbutamol B.P.  (as sulfate) 2 mg
Also contains Propellant (HFA-134a) and surfactant up to 1 ml
Each actuation delivers 100 mcg of Salbutamol B.P.
Use Bronchonil Inhaler only as instructed by your doctor or pharmacist. Each treatment should last for at least four hours.
Do not use this medication if seal is broken; if past the expiry date.
Do not exceed the recommended dosage.
Before commencing this medication, consult your doctor:
If you are pregnant or breastfeeding
If you have known sensitivity to any of the components of the formulation
If you suffer or have suffered from impaired function of the heart and/or the vascular system, hypertension, hyperactivity or the thyroid gland, enlarged prostate and if you have suffered from spasms in the past.
Store below 30°C away from direct sunlight.
Protect from frost.
This container is pressurised and should not be perforated or burnt even when empty.
Disclaimer :Although every effort has been made to ensure that the information on this website is correct, Alphamed makes no guarantee as to the accuracy, suitability, or completeness of the material available. All brands and trademarks remain the property of their respective owners. All rights reserved. All information, graphics and materials are the property of Alphamed and its related entities, or owned by the relevant holders of copyright or trademarks for specific products and/or services. Alphamed makes no guarantee that this website, or any third party websites, are free from viruses.